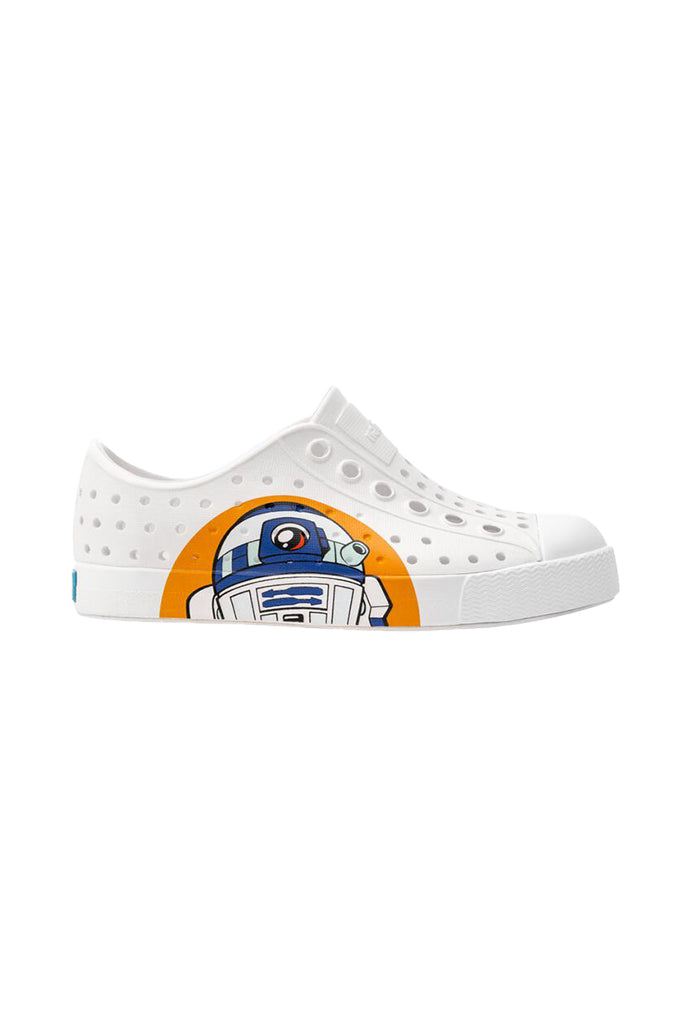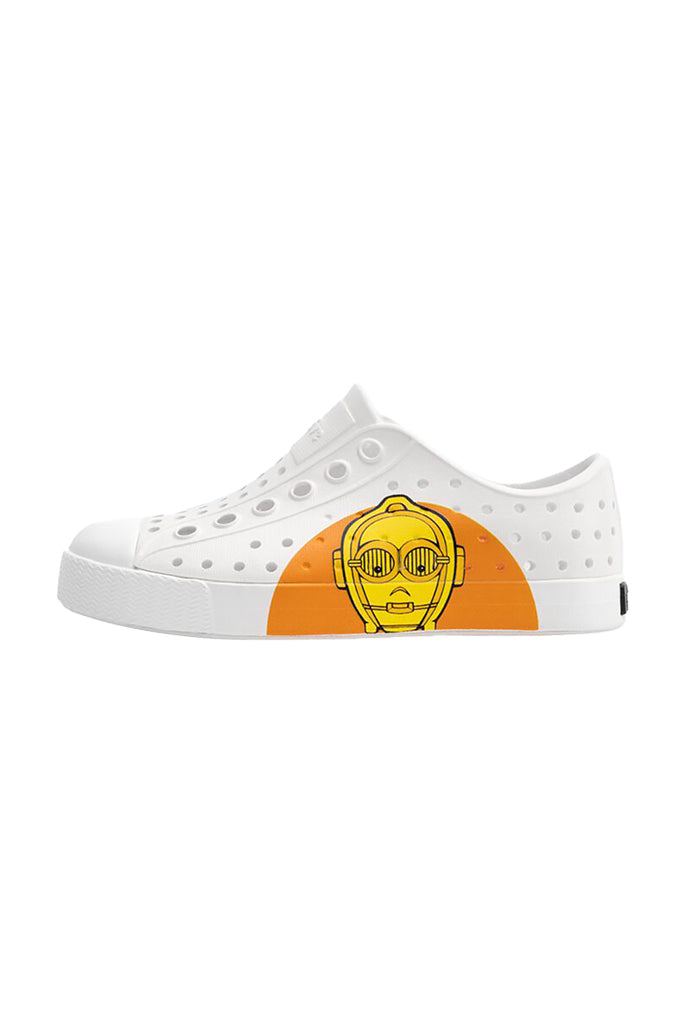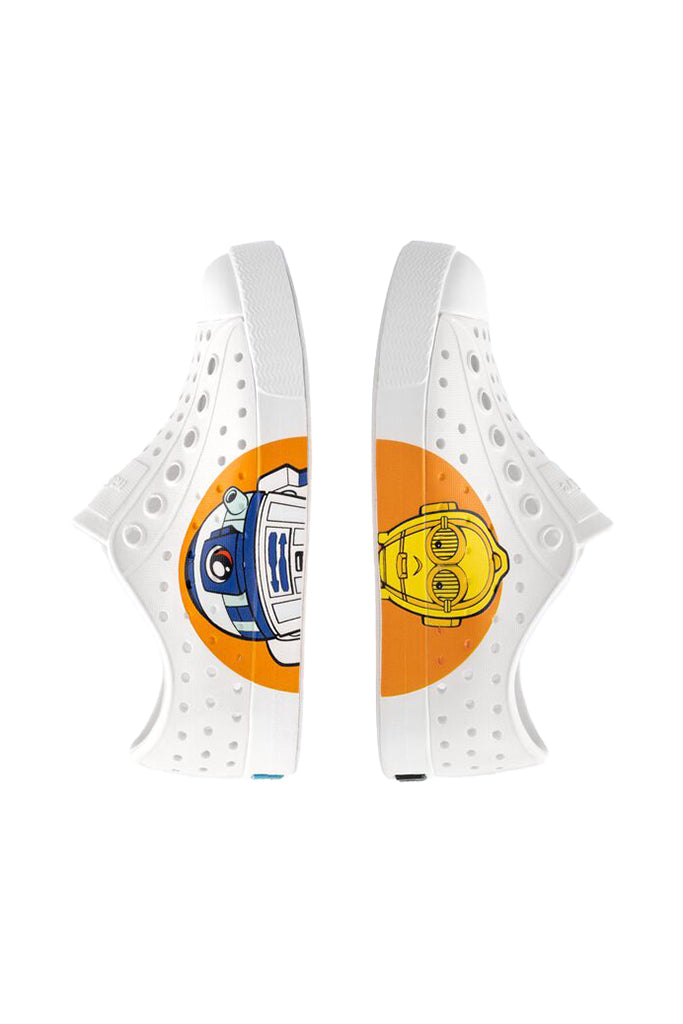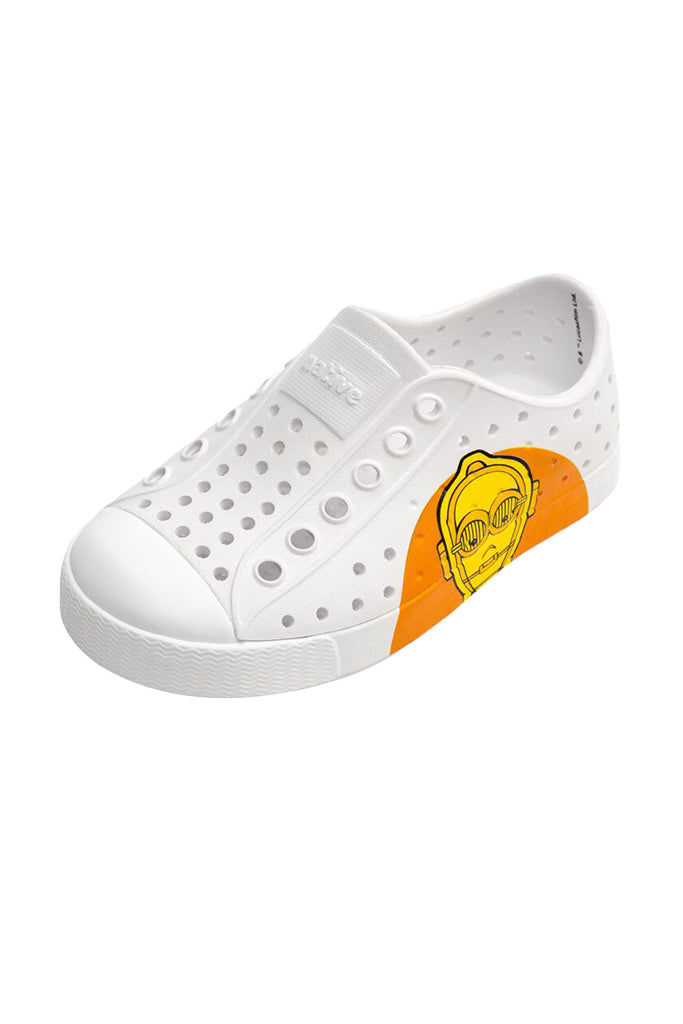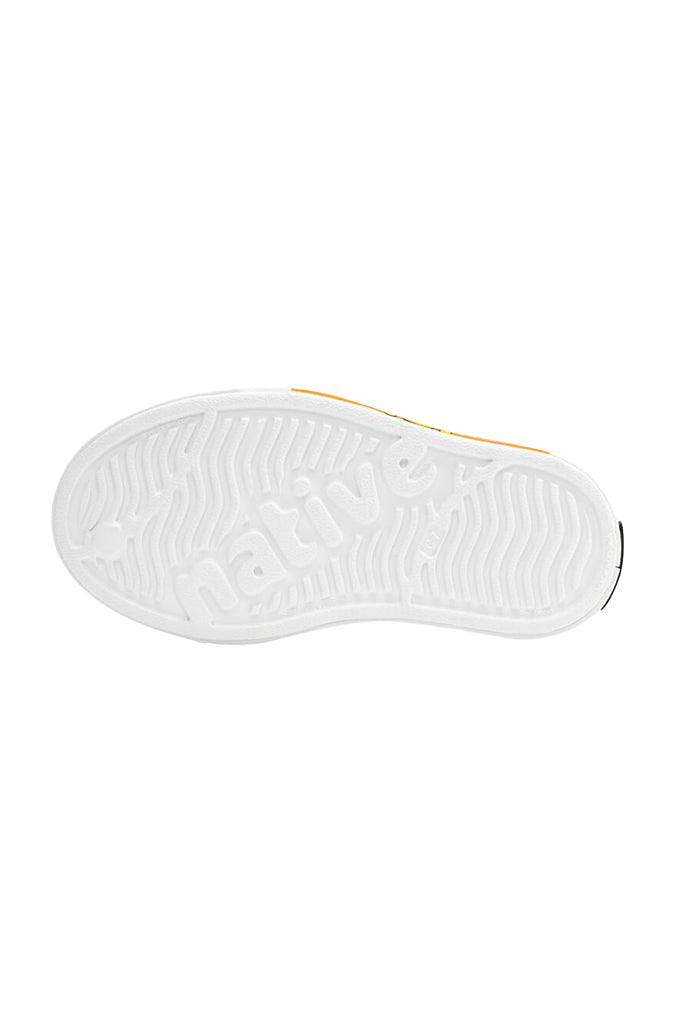 Jefferson Star Wars™ Shell White / Droid BFF (Kids)
Made for the tiny Jedis, these Jefferson Star Wars™ Shell White / Shell White / Droid BFF are part of our limited-edition Star Wars™ collection. Make sure you check out the pictures of both the left and the right sides of each shoe!
Like any reigning ruler of the ring, the Jefferson encompasses all of the fine features that you'd expect from a Native shoe. It's shock absorbent, odour resistant, hand-washable, and comes in an infinite assortment of colours and treatments. Simply the best lightweight slip-ons for kids to wear, whether for school or playtime.
The Jeffersons fits true to size lengthwise but a little more on the narrow side for width. We recommend sizing up in this style if your feet are wide.
Made of ethylene-vinyl acetate or EVA with a rubber rand and toe. 100% vegan and beast-free with an Injection Molded EVA Construction.

The Sugarlite™ collection is made of a proprietary material comprising a blend of traditional EVA and a sugarcane-derived resin. Sugarlite™ incurs a decrease in greenhouse gas emissions through the production process.

Jefferson blings have a bling treatment to create the glitter! Printed styles have printed treatment.
EVA shoes can be hand-washed using lukewarm water, gentle soap and a washcloth or soft brush. Using a towel, pat excess water off and leave them to dry completely in a cool and shaded area.
Native shoes are formed using heat and so can be deformed by it as well! For these reasons, never put your EVA shoes in the washing machine, dryer, or dishwasher.
Since they are heat sensitive, we also recommend keeping them out of direct sunlight when off the foot and never leaving them in the car on a hot day.
FEATURES YOU'LL LOVE
Lightweight
Size C10 weighs a mere 71 grams! That's even lighter than our mobile phones at 174 grams!
Vegan, Beastfree
Not a single hair nor hide on any animal, anywhere, has been used in the creation of Natives. Awarded the PETA Approved Vegan certification, Animal Free means respecting animal and human friends equally.
Odour Resistant
Jeffersons are made of ethylene-vinyl acetate or EVA. EVA shoes are naturally odour-resistant due to their closed-cell surface that keeps smelly bacteria from hanging on.
Easy to wear
At elly, we take time to look for products that simply make everyday simpler for busy moms! Once you've tried firsthand how easy Jeffersons are to slip on, you'll be getting your second and third pair!
Great shoes for pre-school or kindergarten, where the children have to put on their own shoes and head out for water play time.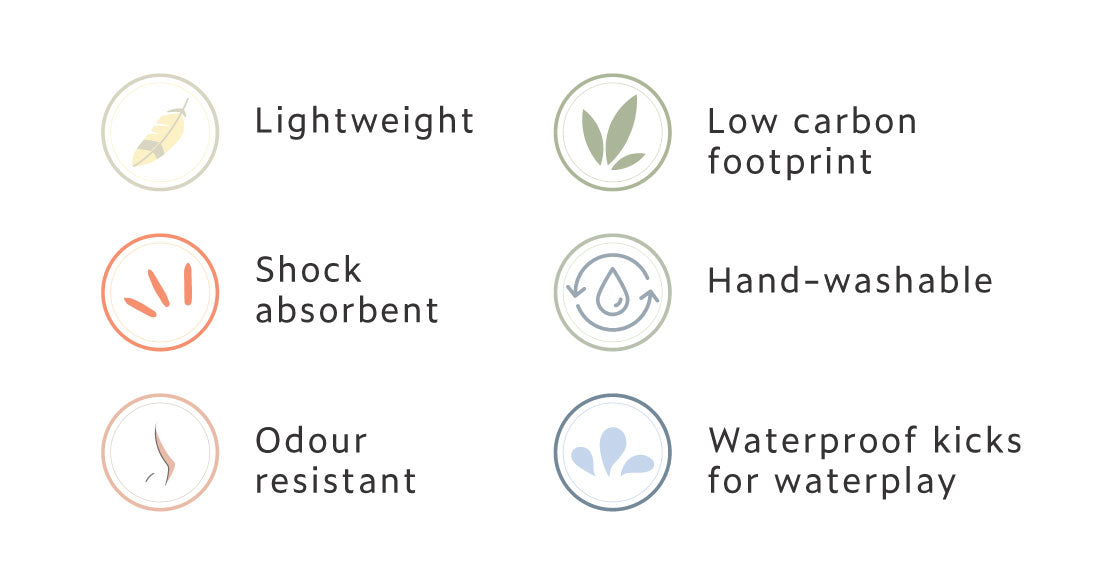 Frequently Asked Questions
Native shoes are only carried in full sizes.
Native shoes are not certified non-slip. Please adventure safely!
EVA is the shorthand for ethylene-vinyl acetate. This material naturally molds to your feet, giving each step a cool and cushy feeling. Native EVA shoes are lightweight, shock absorbent and, hand-washable using lukewarm water and gentle soap. Added bonus – they're naturally odour-resistant thanks to their closed-cell surface that keeps smelly bacteria from hanging on.
Native shoes are REACH, CPSIA, and Prop 65 compliant. They are also BPA and phthalate free, and don't contain hazardous materials such as formaldehyde or formamide.