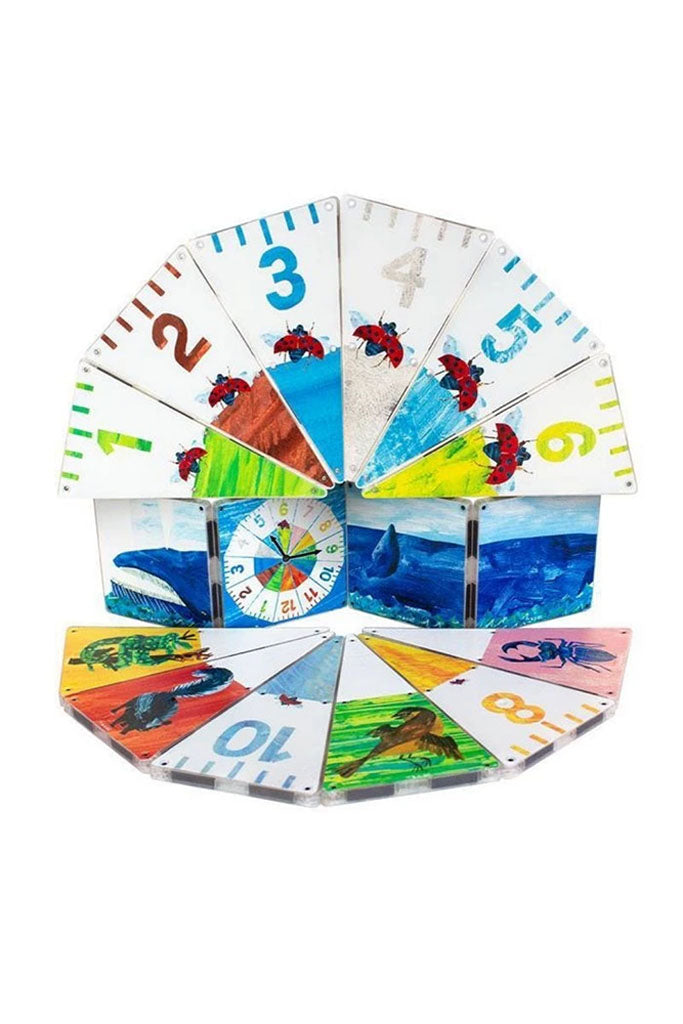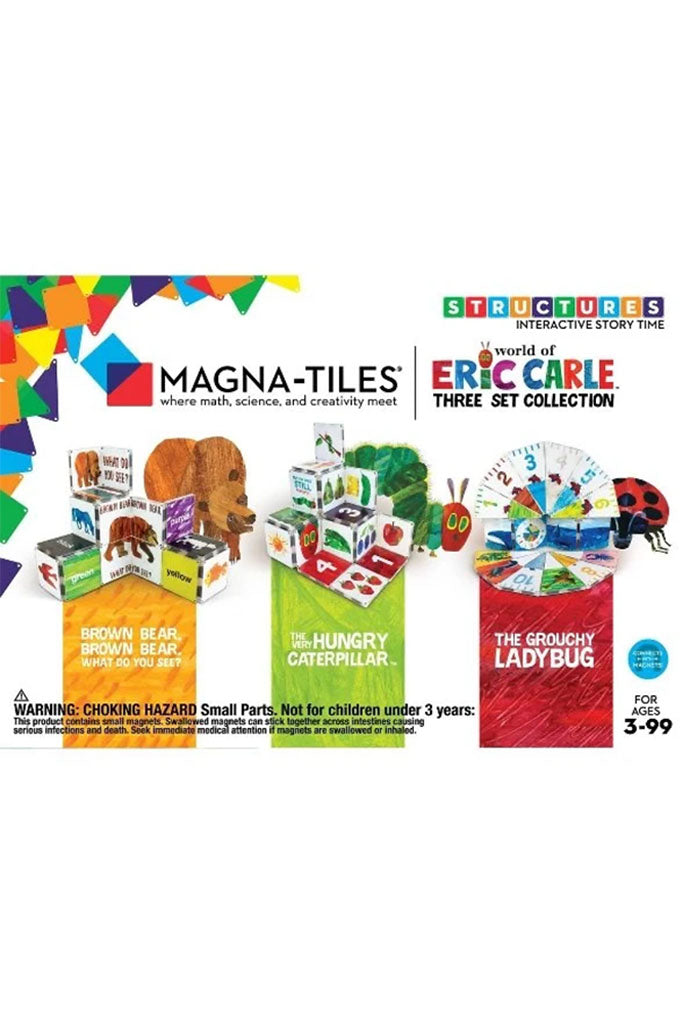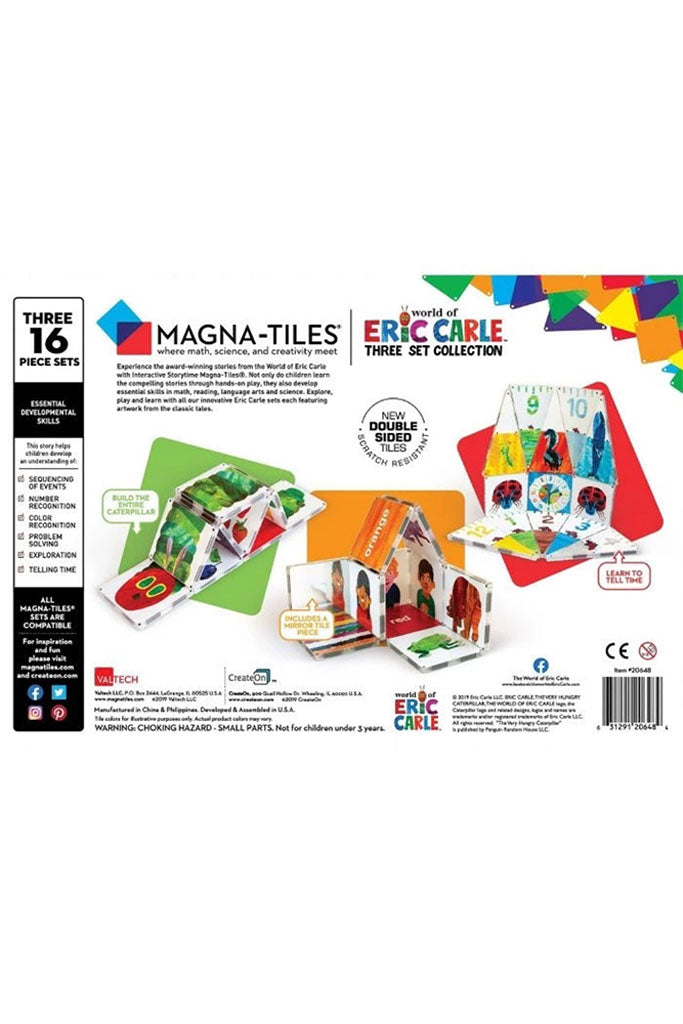 Eric Carle Super Combo 1 Magna-Tiles
Eric Carle Super Combo 1 by Magna-Tiles is an ingenious, exclusive set that lets you combine the magic of story-telling with hands-on building fun! Experience 3 stories from iconic artist Eric Carle - Ther Very Hungry Caterpillar, Brown Bear Brown Bear What do you See? and The Grouchy Ladybug.
For each story, piece the magnetic, illustrated tiles together - each 3D structure tells a story! Each tile is also numbered so that young ones can practice sequencing whilst piecing the story together.
Practice patterning with The Very Hungry Caterpillar, learn animal names with Brown Bear, Brown Bear, What do you See? and learn to tell time and experience emotions with The Grouchy Ladybug.
This is the perfect gift for young ones and Eric Carle fans! What a must-have!
Suitable for ages 3+ years.
Product Dimensions: 14.7" x 2.9" x 10"
Features
48 double-sided illustrated tiles featuring 3 stories by renowned children's book artist Eric Carle;
Tiles feature SuperColor® Technology on both sides;
Combines story telling and construction;
Safe, durable tiles with secure and long-lasting magnets.
Magna-Tiles and Magna-Qubix pieces are made with food-grade MABS plastic that is free of BPA, phthalates, latex, and toxic materials.
The company has been using the same high-quality material since last century (well, 1997 to be exact), so you can count on the safety, durability, and vibrant, glossy colors you've known for years.
Simply wipe them down with a damp cloth or a non-abrasive cleaner — we don't recommend using harsh cleaners or other ingredients that might degrade the plastic material over time. 
Using large quantities of magnetic shapes for your school, camp, or other organization? Simply rotate and wipe down batches every 72 hours before re-use.
Frequently Asked Questions
All Magna-Tiles products comply with U.S., E.U., and other international safety regulations, and they exceed all requirements for testing and product safety.
This includes rigorous durability, material quality, and heavy elements testing to ensure all MAGNA-TILES products are safe and can stand up to years of use.

In its company's 25+ year history, Magna-Tiles has never had a product recall. To learn more specifics on their commitment to safety, check out  (https://magnatiles.com/safety/)

To ensure the safest play, active adult supervision is recommended – especially for young children who may put tiles or blocks into their mouths. We encourage parents to check their Magna-Tile pieces (and any other toys) regularly  for loose or broken parts
MAGNA-TILES® sets are crafted with high-quality ceramic magnets, while Magna-Qubix® are made with rare earth neodymium magnets. Our ceramic (aka, ferrite) magnets are made to resist corrosion and demagnetization for years of lasting strength. 
It's worth noting that exposure to extremely high temperatures (480 degrees Fahrenheit or above) will permanently reduce the strength of ceramic magnets. It's highly unlikely your MAGNA-TILES pieces will be exposed to that much heat, but just an FYI. 
Magna-Tiles products are compliant with all CPSIA regulations, including lead levels. Comprehensive safety testing has been a top priority for their company since its founding, and the company strives to comply with all U.S. consumer product safety regulations. 
While the future may bring new standards and legal requirements, Magna-Tiles is committed to meeting and exceeding all expectations for quality and safety so parents and educators can choose Magna-Tiles and Magna-Qubix construction sets with confidence.
Magna-Tiles products are all designed in the U.S. (right outside Chicago, to be exact).
The company is proud to partner with a network of suppliers in Indonesia, China, India and the Philippines, adhering to some of the highest standards in the industry.