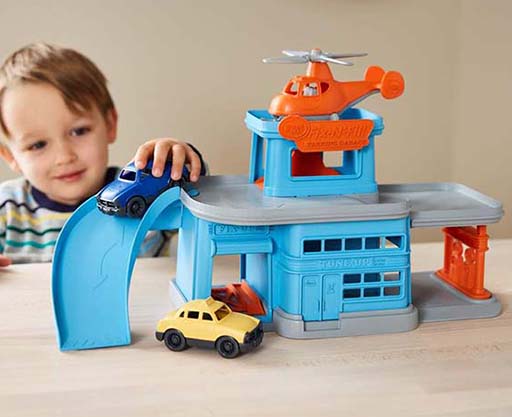 100% Recycled Toys
Green Toys demonstrates that recycling can result in something tangible and meaningful - old can become new. These toys are living proof that milk jugs, just like the ones in your fridge, can ultimately end up back in your playroom.
100% US-made, from manufacturing to assembly to distribution, reducing greenhouse gases, energy and save on transportation.
Reduce Reuse Recycle
Each Green Toy box that gets recycled saves one gallon of water.

Green Toys prints boxes with soy ink. Made from soybeans, soy ink is a natural renewable resource that biodegrades 4x faster than petroleum-based ink.
Every pound of recycled milk jug used to create a Green Toys product saves enough energy to power 3,000 AAA batteries, a TV for 3 weeks, or a laptop computer for 1 month.